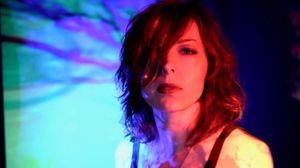 "Perhaps the best way to explain Julia would be if Norah Jones, Tom Waits, Billie Holiday, and Lyle Lovett had a musical orgy and let you watch behind a curtain of burning lace and a whiskey waterfall.  Bring your soul." 
Julia Othmer is a captivating piano-playing singer/songwriter known for her energetic live performances.  Passionate and engaging, Othmer creates intimate warmth with her audiences. The child of refugees, Othmer draws from a richly cultured palette of experience to inspire her intensely human yet otherworldly songs. Her piano-driven performances are mesmerizing fusions of raw power, vocal artistry and joy. Among her most recent accolades, Othmer was chosen as one of seven artists to represent the USA in Global Music Match 2021.
Using music to connect to people and social issues inspires her.  Her most recent project is Songs of September, a 30-day online voter registration drive concert series where she performed songs of change, protest and hope.  She then asked listeners to vote on their favorite performances resulting in Seeds: Volume 1 (LIVE) - a listener-curated, democratically-elected collection released in late 2020.  Seeds: Volume 2 (LIVE) is due out March 20, 2021 - on the spring solstice. 
Her most recent studio album "SOUND" is a collaboration with UK-based producer/composer James T Lundie and features re-imagined vintage and bespoke equipment.  "SOUND sounds so good" writes Elmore Magazine, it has "stunningly sophisticated and dramatic architecture" and is "spellbinding and visceral."  Acclaimed music writer Tim Finn describes SOUND as a "self-made record with a big-label sound… rich in space and soaring dynamics and rife with layers and textures and melodies and grooves."  Public Radio host Bob McWilliams says these "songs are powerful." 
The album's first two singles – "Purple and Gray" and "Hungry Days (Make Me Feel)" have reached over 275,000 views on YouTube and been featured on over 100 radio stations around the world.  Chart highlights include Pop Radio UK #1, Big Indie Giant (South Africa) #3, UK Independent #6, and Radio VGR (UK) #2.  "Hungry Days (Make Me Feel)" was featured on Japan's #1 radio station " and highlighted as a "Top 3 Indie Videos" by InterFM host Mike "In Tokyo" Rogers. 
Tracks from Julia's critically acclaimed debut album, Oasis Motel, have been featured in shows like Witches of East End, Switched at Birth, The Lying Game, Army Wives, and DeGrassi: The Next Generation.  She received songwriting awards from the Billboard World Song Contest and the International Songwriting Competition.  Julia shared the stage with Sarah McLachlan, Emmylou Harris, Heart, Regina Spektor, The Alarm, Amanda Palmer, Lisa Loeb and John Waite among others. 
Julia loves books and used-book bookstores.  She is passionate about forbidden archeology and wisdom traditions.  Julia, James and their pit bull rescue Mary live in the woods by a lake, keeping watch for bald eagles and making music.
 
"spellbinding and stylish, stunningly sophisticated, SOUND sounds so good,"
- Peter Lindblad, Elmore Magazine 
"Especially powerful... lush and gorgeous."
- PopDust 
"prophetic and potent...[Julia Othmer] is a captivatingly magical potent dynamic force of a pianist/songwriter." 
- Siege, Backstage 360 
 "instantly anthemic"
- Bart Mendoza, San Diego Troubadour
"Together, they wring every bit of sadness and yearning out of the bruised ballad "Homeward," having set an ominous tone of fear and foreboding in an unnerving "Coming for Me Now" and a noir-like, moonlit atmosphere in "Purple and Gray," a dreamy, poetic meditation on loss and grief that unfolds beautifully. And while the inspirational and triumphant "Never Too Far" – with its big hooks – and the exuberant "Frickin' Awesome" reveal a sense of rock-oriented optimism and healing, the surging "Hungry Days (Make Me Feel)" is fiercely defiant and visceral, its streaming guitars caked with fuzzy distortion."
- Peter Lindblad, Elmore Magazine
"unfiltered soul"
- Mike in Tokyo Rogers, InterFM 89.7FM - Tokyo, Japan 
"Sensuously bewitching music with a Siren-like wicked magnetism."
- Randall Radic, Popdust 
"SOUND is a self-made record with a big-label sound. It is rich in space and soaring dynamics and rife with layers and textures and melodies and grooves."
- Tim Finn, Kansas City Star 

"it's brilliant, melodic, fiery, and moving, just like Julia herself. If you're looking for new music to listen to, check it out and get ready to feel the sound of a true artist. And congrats to James Lundie on the beautiful production."
- Abdi Nazemian, Author of "The Authentics" and "The Walk-In Closet," Producer (Call Me By Your Name) and Screenwriter 

"I've been listening to her new CD and it is flat out great...the songs are powerful, the singing is great, and the production is great."
- Bob McWilliams, Kansas Public Radio, host of "Trail Mix"

"...at ease and relaxed at the piano, as if it was a good friend...her singing voice was strong and uncompromising, her playing direct."
- Sonya Alexander, NYC Examiner

"She is a singer/songwriter with a cute, funky attitude and haunting pipes that leave listeners in awe. She captivated with the dramatic pounding of the piano keys and passionate singing."
- Jenna Putnam, The Deli